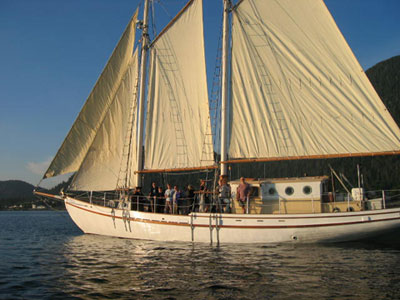 This past weekend was the Classic Mariner's Regatta in Port Townsend. I headed down to try get on a boat, as I haven't been sailing in a while.
First stop was the skipper's meeting. The sun was out, and the sky was gorgeous. I was worried about a sunburn, and didn't bring a hat, so I bought a hat from the Wooden Boat Foundation with "23rd Classic Mariner's Regatta" on it. In case I forget. Before we had cast off, the sky had clouded over, and we didn't see sun again all day.
There were two other folks who were looking to crew but didn't have a boat. All 3 of us ended up on
Mycia
. She's a 73' LOA schooner, with a large deckhouse. We came on board & met the other crew who were already there.
After getting the grand tour, I realized that I hadn't brought enough food for the full day. The skipper said we had 15 minutes. We were docked right by the Otter Crossing Cafe, so I went there to order a sandwich and use the shore head. Turns out they were really busy, and took 25 minutes to make the sandwich! I stepped back outside, and saw that I had
missed the boat
.
I considered going home, but all my gear was still on board, including my keys*. They bay was now dotted with sails. Finally, I saw one more boat motoring through the marina. I ran down to the end of the dock and hailed them, asking for a ride out. They pulled up close, and I stepped on. Once out on the water, they motored to
Mycia
.
Mycia
was pulling an inflatable dinghy, so they came up next to the dinghy, and I jumped down in to it, sandwich in hand. Then I hove on the painter, boarded the schooner, and said hello to my shipmates. What a way to start the day!
I had a blast. Worked my butt off heaving on lines to get things trimmed as best we could. My hands were sore all the next day. Thoroughly enjoyed my sandwich (egg and bacon on a tasty roll). Plenty of wind, which
Mycia
likes. And after the race, we kept sailing out towards Fort Worden, where the wind was even stronger. She was heeled well over, and really moving. Finaly we came back in to port, said goodbyes, and I headed home.
I was so tired that the next morning I got up, made fed breakfast to the family, and was back asleep by 10:15am.
Today I took a paint pen and wrote "CREW" on the bill of my cap. Again, just in case I forget.
I want to thank the boat that delivered me. I didn't get her name, nor the chance to properly thank her captain. One notable thing about the boat: the cleats and winches for the jib sheets were held in place with woodworking clamps. I figure that's a good way to experiment with positioning.
I left my phone number with
Mycia
's skipper. I look forward to getting out with them again.
*Keys to my bike, of course.